WE SPECIALIZE IN EASY  TO OBTAIN AUTO TITLE LOANS.
Serving all cities from Jacksonville FL, to Kingsland GA
Apply Online
When you apply, you will need a free and clear vehicle title in your name.
Vehicle Inspection
Bring your vehicle in for a quick inspection.
Get Approved
Your application will be reviewed and once approved...
Get Your Funds
You will receive your funds immediately
CAR TITLE LOANS MADE FAST AND EASY
Jacksonville Title is North Florida's premier title loan provider.
We specialize in easy to obtain auto title loans, and service all of Jacksonville and the surrounding areas. For over 12 years, we have been Jacksonville's trusted source for car title loans and our friendly and professional staff will gladly answer all of your questions.
With our quick and streamlined process, you can obtain the cash you need in as little as 15 minutes!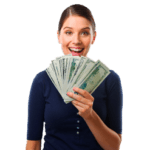 No Credit Checks.
Considering car title loans are meant to be short term, our interest rates are competitive, and that means getting the cash you need doesn't have to cost you an arm and a leg. Car title loans with no credit checks means that your credit will not be affected, and your approval will not be denied because of bad credit. Learn how to get a title loan with bad credit here.
Fast & Secure.
The quickest way to get the funding you need is to fill out our simple online application, and one of our loan specialists will contact you. You are always welcome to call one of our two locations that are conveniently located to service all areas of Jacksonville if you have any questions about our title pawn process contact us today.
Get Up to a $5,000 Car Title Loan.
Whether you need $500 or $5,000, we will do everything we can to make sure you walk away with the money you need and the peace of mind knowing all of your questions about auto title loans have been answered. Learn how to get a car title loan without a bank account here.
Friendly Staff ready to help you anytime.
Jacksonville Title will always make you feel welcome, and do anything we can to make the car title loan process as smooth and pain-free as possible.
Our team can be reached directly at (904) 880-2274 in Kingsland, GA.
RESPONSIBLE LENDING
Jacksonville Title is committed to giving its customers the best experience possible.  Car title pawns are secured by the equity in your vehicle. This type of pawn is not intended to be a long-term solution. The max APR for a title pawn is 0%*, plus a mail fee of $5.91. Pawn repayment periods can range from 61 to 90 days.
Representative Example
If you choose to pay your pawn within 61 days, then the total repayment for a $100 loan is $100. The customer is also responsible for paying a mail fee of $5.91.
| PAWN AMOUNT (Amount Financed) | PAWN TERM (# of Days) | PAWN FEE (Finance Charge) | CHECK AMOUNT (Total of Payments) | APR |
| --- | --- | --- | --- | --- |
| $100 | 61 | $0 | $100.00 | 0% |
Representative Pawn Examples (Changing Terms)
One Time Fee
Total
Amount
Term
Rate (APR)
No. of Payments
Monthly Payments
Mail Fee
$100.00
61 days
0%
2
$50.00
$5.91
$105.91
 * This offer is only provided to customers who application originated via a paid Google advertisement. Your actual rate depends upon loan amount, loan term, credit usage and history, and will be agreed upon between you and the lender.