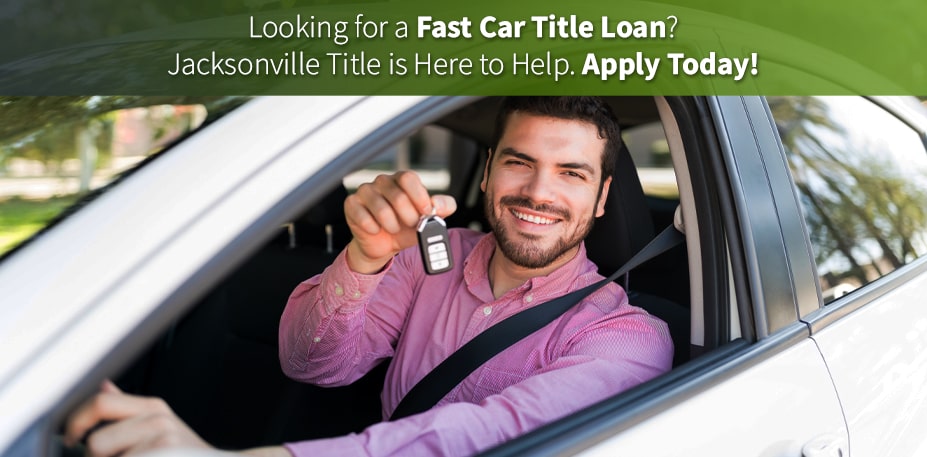 If you need a rapid title loan near Jacksonville, FL, Jacksonville Title is here to help. In just 5 steps, you can get the cash you need with one of our rapid auto title loans. Get more details below and apply today.
1. Check Our Car Title Loan Requirements
To qualify for our rapid auto title loans near Jacksonville, FL, you'll need to meet a few qualifications. You'll need:
Your vehicle – We will need to do a quick 5-minute inspection of your car to confirm its value, condition, and other information.
A free-and-clear car title in your name – You must not be making any payments on your car, and the title must be in your name.
Proof of residency – You must bring a phone bill, utility bill, or another document with your name and current address.
Proof of income – We usually require proof of income of at least $1,000 per month to provide you with a car title loan.
If you meet these requirements, you qualify for our rapid auto title loans.
2. Get an Email Quote & Come into Our Office to Apply 
Click here and fill out the form on the right side to get an email quote, if you like. You can also come directly to our office and get a quote from one of our professional office staff. We have two locations for rapid auto title loans near Jacksonville:
Kingsland – 1603 GA HWY 40 East, Kingsland, Georgia 31548
Choose the office that's nearest to you and come in to apply for your loan right away. We'll walk you through the whole process.
3. Have Your Car Inspected
We will need to take a quick look at your car to confirm its make, model, condition, VIN #, mileage, and a few other details. This helps us ensure that we lend you the right amount of money based on your car's value. 
4. Get Your Quote
Once we've inspected your car and you've provided us with your documents and a completed application, we'll give you a quote for your loan. If you like it, you can accept it – but if you change your mind, there's no commitment to take out one of our rapid auto title loans.
5. Get Your Cash
Sign for your loan. We'll give you your cash right away, so you can use it to cover your emergency expenses. You'll keep your keys and your car, and repay your loan based on your title pawn agreement.
Get the Cash You Need Right Away at Jacksonville Title
Want to get quick cash near Jacksonville? We're here to help. Follow the above steps, and you can get emergency cash with a rapid auto title loan right away.