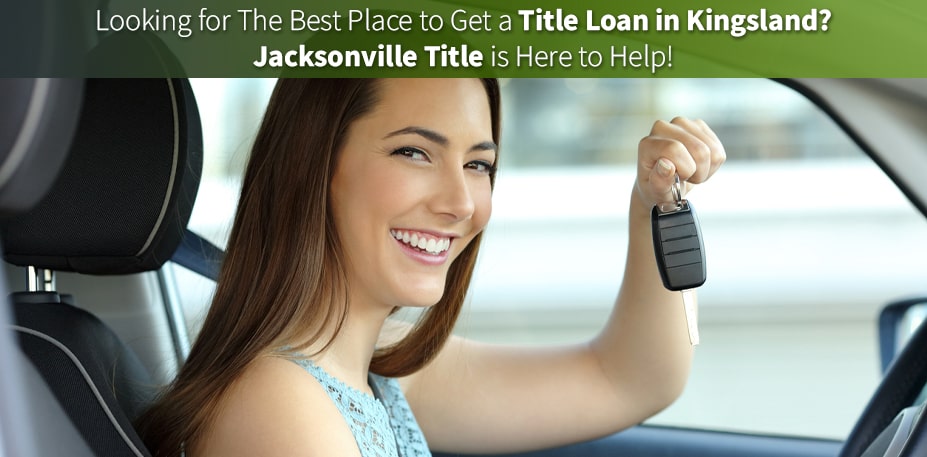 Need title loans in Kingsland, Ga? Wondering which title loan company is the best choice for you? At Jacksonville Title, we've been serving customers in Kingsland, GA, and the surrounding area for years. See why we're the best choice if you are looking for title loans in Kingsland, Georgia.
We're Conveniently Located in Kingsland
Our location in Kingsland makes us easy to find and convenient for residents throughout the area. You can find us at 1603 GA HWY 40 East, Kingsland, Georgia 31548, in the Camden Woods Shopping Center in front of Publix.
Thanks to our convenient location, it's easy for you to come into our office and get the auto title loans you need in Kingsland, Georgia. Stop by now to begin your application.
1. Simple Application Requirements
Worried that you might not qualify for title loans in Kingsland, Georgia? At Jacksonville Title, we make it easy to qualify. You'll need:
A "free and clear" car title in your name only. You must not be making payments on your vehicle, and the title must be only in your name. This is the collateral we will hold until your loan is repaid.
Proof of residencies, such as a phone bill, bank statement, or utility bill with your home address and name.
Proof of income, such as a pay stub. For some loans, we may require you to prove a net income of $1,000 or more per month.
2. Get Your Cash Immediately
Once you come into our office and apply for your title loan, we will give you cash for the value of your vehicle. You can use your cash to pay bills, unexpected expenses, and anything else you need it for – and you won't have to wait for a check in the mail! That means you can get the money you need right away. 
3. Keep Your Car & Your Keys
You never have to give up your car or your keys for as long as your loan remains in good standing. You can just keep using your car like you always have!  And once your loan is paid off, you'll get your title back – it's just that simple! As long as you repay your loan, you never have to worry about losing your vehicle.
4. Get Pre-Approved Online & Save Time
We offer online pre-approvals on our website. If you'd like to save time when you come into Jacksonville Title for title loans in Kingsland, Georgia, you can fill out our online application and get an instant email quote for your vehicle. 
COME TO JACKSONVILLE TITLE NOW FOR TITLE LOANS IN KINGSLAND, GEORGIA!
With our convenient location, affordable loans, and easy application process, Jacksonville Title is a great option for title loans in Kingsland, Georgia. Come into our office now and get the emergency cash you need.